Rediscover the Freshness of Your Home
Choosing the right carpet cleaning service for your home can make all the difference. With Bowman's Carpet Care in Indianapolis, you're not just choosing a service; you're choosing quality, reliability, and peace of mind.
Exceptional Residential Carpet Cleaning in Indianapolis
Your home is your sanctuary. It's where memories are made, and life unfolds. That's why keeping your carpet clean and fresh is so essential. At Bowman's Carpet Care, we offer:
Deep Cleaning: Using a pH balanced pre-treatment and rinse, Hot Water Extraction "Steam Cleaning" guarantees the lifting away of dirt and grime.
Eco-friendly Products: We use green cleaning solutions that are biodegradable. Safe for you, your family, pets, and the environment.
Stain Removal: Whether it's from coffee, wine, or daily wear and tear, we specialize in getting out those stubborn spots.
Quick Dry Time: No need to tiptoe around for a day. Our steam cleaning method ensures a 3-5 hour dry time.
Optional Protection: Ask about our Scotchgard option to keep your carpets looking cleaner longer.
We pride ourselves on being timely, affordable, and offering the best carpet cleaner service in Indianapolis. As a licensed and insured company, you can trust us to provide top-notch care every time.
Why Is Regular Carpet Cleaning Important?
A clean carpet does more than just look good. It:
Enhances your home's appearance.
Extends the life of your carpet.
Provides a healthier environment by removing allergens.
Refreshes the feel under your feet.
Especially in areas with high foot traffic, regular professional carpet cleaning is essential to maintain quality and vibrancy.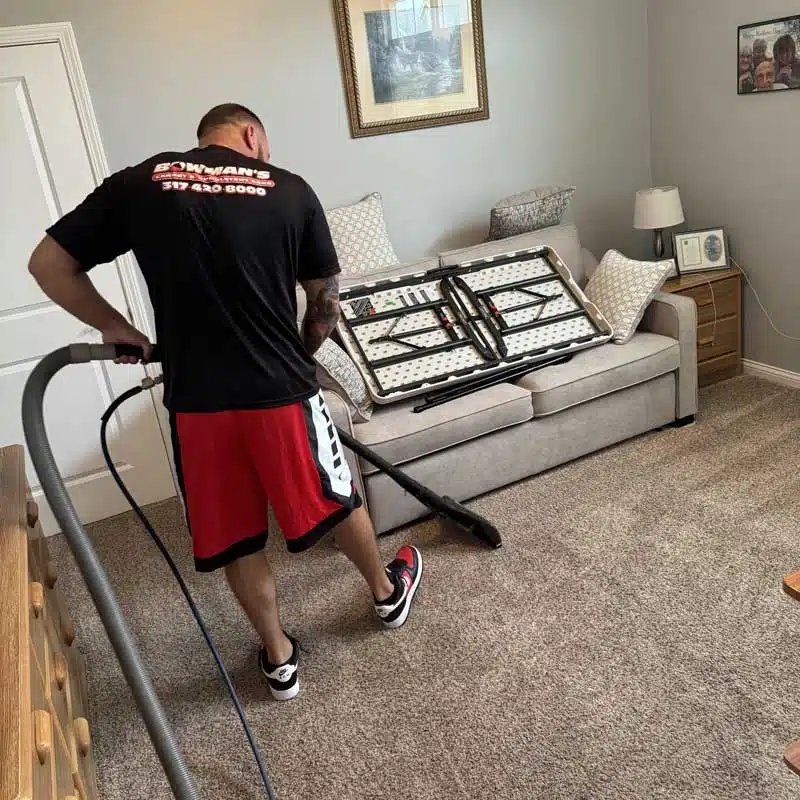 Frequently Asked Questions
Contact Bowman's Carpet Care Today
Your home deserves the best. Don't let another day go by with dingy, dirty carpets. Call Bowman's Carpet Care at 317-420-8000 and schedule your residential carpet cleaning today. Let us help you bring back that fresh, clean feeling to your home.